What's dope
Simply the best vaporizer on the planet. Quality product!
Uses flowers/herbs or extracts/juice.
Fine tune it from the Pax mobile app.
What's wack
More expensive than some of the other vapes. If you don't need to vape extracts, you may opt for the Pax 2 for $100 less
Pax's lineup of vaporizers is a trifecta of perfection. As the flagship product, the Pax 3 might well be the world's best pocket vaporizer, due to it's reliability, ease of use and versatility.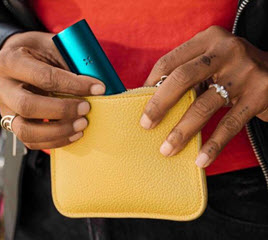 Reliability – The Pax just works… its long-lasting charge will keep you puffing for hours without a recharge. The vapor it produces is consistently thick, and it will squeeze the very last drops of goodness out of your media, be it flower/herb or extract/juice.
Longevity – I have a Pax 1 from 2008 that is still working great. I'm surprised it has lasted this long, but this speaks to the quality of the Pax products. I expect the Pax 3 will similarly last many years.
Ease of use – It's so easy to use. PAX communicates with you through LED lights that show heating status, battery life, and temperature settings. Save settings and design an experience that you can replicate time and again. Use the Pax mobile app for even more precision.
Versatility – PAX 3 comes with two options to enjoy – stick to dry herb if that's more your style, or easily switch to concentrates. Match your preference to performance, no matter your mood.